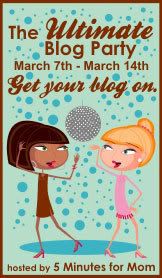 I am uncharacteristically late to the party, but at last I have arrived! Loved last year's party and am looking forward to this year's.... just hope I have time to mix and mingle, what with all the goings-on around here. Forgive me if I have to step out for a bit, but I seem to have lost the remote control to life and cannot hit "pause" so that I can relax and enjoy the fun as much as I'd like.

For newbies here, I'll point you to my
100 things post
, newly updated. As a quick intro, I'll let you know that I'm a full-time mom to 4 kids ages 7-16, plus 2 dogs, ages 11 months and almost 5 years. The beautiful face looking at you in the header is Rory, our Great Dane puppy. She is mentored by our spazztastic Wire Fox Terrier, Campbell. I've been married nearly 22 years to a great guy who is a nurse anesthetist in the US Air Force. I homeschool our 3 youngest kids, while the oldest is a sophomore at the local Christian high school.
Two big events coming up this week for us:
My 16yo is taking her driver's permit test on Friday.

Opening day for baseball here on base. The boys both have games, thankfully not at the same time (although that will happen a few times later this season).
Grab a Diet Mt. Dew and relax... I'll be back to check on you eventually (unless I fall asleep watching HGTV).