It's been a long while since I've participated in Katrina's reading challenges, but now that I'm a bit more settled in the new house and have that all-important library card.... Well, it's time to jump back in!

I am trying to avoid my tendency to put reading ahead of the other responsibilities in my life, hence my list is shorter than in times past. This also has to do with the fact that many of the books are library requests and I am not sure how long it will take to get them. The library here has a shorter check-out period than I've been accustomed to (2 vs. 3 weeks), so I may have to do the unusual (for me, at any rate) and renew some of them. I'm not sure of the rules here, but in previous libraries, renewing wasn't an option if someone else was waiting, so hopefully that won't be a problem. The online system back in CA actually showed me what my position in the holds list was, so I knew how many people were ahead of and behind me in the list; I don't have that luxury here, so I'm flying blind.

With all that out of the way, here's the list: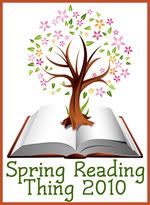 Books on hand
The Annotated Anne of Green Gables
, L.M. Montgomery. This has been on my shelf for a good while now.
The Wee Musketeers
, Robert Bresloff. This is an Advanced Reader's Copy I received through LibraryThing. It's a kids' book and won't take long once I take the time to sit down with it. Looks like fun, and is right up Joel's alley.
Not a Tame Lion,
Bruce Edwards. Another book I've had for quite some time. I actually began this one, but it got misplaced in one of our moves and I found it again shelving books after this one.
Shades of Blue
, Karen Kingsbury. Technically not on hand, but will be arriving in the next week or so.
Books I'm waiting on
Girl Meets God
, Lauren Winner. This book received a lot of buzz several years ago, but this will be my first chance to read it.
A Million Miles in a Thousand Years
, Donald Miller. Having loved his previous books, I'm really looking forward to this one.
Take Three
, Karen Kingsbury. Third in a series of four.
Before I Fall
, Lauren Oliver. Light fiction... read an online review that sounded interesting.
Coral Moon
, Brandilyn Collins. Another book I read a recent review of. I've read some of her work before. Light suspense, nothing heavy.
The Rise of the Black Wolf
, Derek Benz. This is second in a trilogy for young adults. Joel is currently reading the first (which I read a few years ago). I want to pre-read this one for him.
The Fall of the Templar
, Derek Benz. Book three of the trilogy.
I'm also hoping to come across something good to read aloud with the kids. We have gotten out of the practice of reading aloud and I'd like to start again.