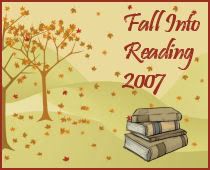 It's that time again! The kids and I just made a library run yesterday, so the books I got then will be part of the list; I'll also add the books that are in my "request hold" list.
Those are the ones I have right now. I actually finished #1 on the list yesterday. I read during lunch and while in carpool, and after getting home from Christmas choir practice last night. (It made me forget about the season premiere of
Heroes
. Guess I will have to watch it online!) Still on my hold list:
It's All Too Much: An Easy Plan for Living a Richer Life with Less Stuff

, Peter Walsh. This is the guy from TLC's

Clean Sweep

show.

How Starbucks Saved My Life

, Michael Gill.

Down River

, John Hart.

The Other Mother

, Gwendolen Gross.

Keeping the House

, Ellen Baker.

Barefoot

, Elin Hildebrand.

74 Seaside Avenue

, Debbie Macomber.

The Lovely Bones

, Alice Sebold.

Still Summer

, Jacquelyn Mitchard.

The Memory Keeper's Daughter

, Kim Edwards.
I think this is a much more doable list than the one I had in the spring. I am sure I will wind up with much more fiction on it as I run across new things, but these are the ones I am currently planning on reading.